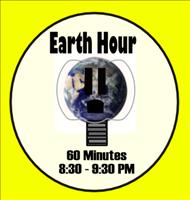 Digital News Report
Digital News Report – Earth Hour is today and this will make many portions of cities worldwide to go dark for one hour. Individuals also may go without electricity for one hour. The time to do Earth Hour is annually been on the last Saturday of March and will have the lights go out between 8:30 pm and 9:30 pm local time. Earth Hour began in 2007 in Sydney, Australia and was organized by World Wide Fund for Nature (WWF) along with the local newspaper. The reason to flip the switch off is to help raise awareness about climate change.
YouTube has promoted Earth Hour which will allow users of the website to change from a white background to a black one. Some TV channels on cable may go blank for the Earth Hour event. In California, the Golden Gate Bridge will turn their lights off for the event.
Last year an estimated 90,000,000 Americans turned off their lights for Earth Hour. Altogether 126 countries participated in last year's Earth Hour. Famous sites worldwide went black during Earth Hour. Last year, the Las Vegas Strip and the Empire State Building turned off their lights for the event.
By Victoria Brown