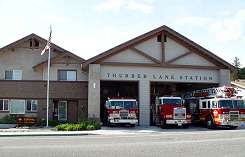 Central Fire Protection Station 2
Digital News Report – SANTA CRUZ – The Santa Cruz County Board of Supervisors will meet today to discuss various topics including the swine flu epidemic, paper ballots and the county fire department.
The county may seek an increase in taxes to fund an expanded fire service. In 2007 the voters dismissed a proposal to increase taxes for fire protection, and that wasn't the first time voters blocked similar measures. After the 2009 wildfire season, sentiment may be different.
Originally the proposal was posted as a consent item but there have been complaints about that. Whether posted as a consent item or on the regular agenda, staff is recommending a yah vote.
Earlier this month the supervisors reviewed a proposal to poll residents to see how they will vote. It is expected that they will approve funding to see if the voters would reject a tax hike.
If you are interested in speaking to the board, the meeting starts at 9 am
Governmental Center Building
701 Ocean Street, Room 525, Santa Cruz, CA
By: Mark Williams