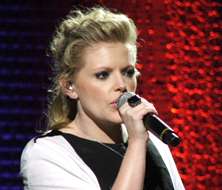 Natalie Maines – Photo: Ron Baker
Digital News Report – Lead singer Natalie Maines and the Erwin sisters of the Dixie Chicks have parted ways, at least temporarily.
Martie Maguire and Emily Robison (sisters) are working on a new project. This occurred after Maines reportedly took an indefinite hiatus.
Maquire plays the fiddle and Robison plays the guitar. Maquire told Rolling Stone "Emily and I had the itch… and every time we'd call Natalie and say 'are you ready?' she wasn't ready. She wanted a clear-cut break."
Maines joined the ban in 1995 replacing lead singer Laura Lynch. Since then the group has earned 10 Country Music Association Awards and 13 Grammy Awards.
The sisters' father told CMT.com that the split is just temporary. "They were all here at my house for Christmas. Everybody seemed happy and healthy. And they were back here on New Year's Eve with their families. Everybody had a great time, but, I tell you, during holidays, I don't ask any business questions, and they didn't offer any insight… But they're definitely still an entity."
By: Jael Kirk