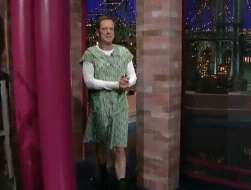 See Video Below
Digital News Report – Leno, Conan, Jimmy Kimmel and David Letterman are looking for shockingly new acts to steal the late-night audience, but Kiefer Sutherland's antics took it over the top.
The 43 year-old Sutherland appeared on the David Letterman show Wednesday night wearing a dress. The "24" star explained that he lost a bet with a friend.
"I was so sure New England was going to win, that I told a guy who used to be my friend that if New England lost, I would wear a dress on 'Letterman'."
Letterman took it further by challenging Sutherland to ride the subway wearing a dress. He said he would pay him a "thousand dollars" to do it.
"Riding the subway would be easier than what I'm going through right now," Kiefer retorted.
By: Jael Kirk
Common Misspellings: Keifer