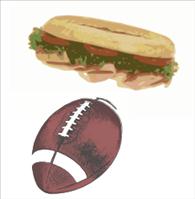 Digital News Report
Digital News Report– The Super Bowl is only a couple of days away, and if you are having a party you may want to have some food ideas to serve for the big game day. The Super Bowl foods should be fun and casual foods, which means that preparations may be easier for you as well.
Chicken wings or Buffalo wings are always a favorite food. Guys love them, however they can be messy, so if you have this food available, make sure you have plenty of napkins handy. You can chop up celery and have either ranch dressing or blue-cheese dressing for dipping the wings.
Chips and dips. There is plenty of different kinds of dips. You can have corn chips with guacamole. You can have potato chips with French onion dip. You can get snack mixes that can be munched on when your guests get hungry. If you are looking for healthy food choices you can have fresh vegetables that can be dipped in ranch (go with lite or reduced fat if you are looking for lower calories).
Quesadillas are a popular food choice. You can make them fancy by adding spicy peppers, chicken, or black olives. You will want to have guacamole and hot sauce handy for those that must have the extras.
Smoked sausages is definitely a good choice. You can cut them up into bite sized piece and put a tooth pick in them for easy snacking. You can have dijion mustard mixed with a little bit of mayonnaise to create a tasty dip.
Pizza would be a hit as well. If you don't want to make your own you can order them up on game day, or you can by the pre-made frozen pizzas. There are also recipes online that uses quick breads to create a snack sized pizza bite. That way you don't have to have a whole lot of pizzas and you can offer more variety for your guests to eat.
Chili could be a great choice for a more substantial meal. It is easy to make and you can make a lot of it to feed a large crowd. Bake up a large batch of corn bread to go along side the chili. Also make sure to have fresh chopped onions, shredded cheddar cheese, crackers, and sliced black olives for topping the chili.
For sweet treats you could bake some chocolate chip cookies, cupcakes, or some brownies. The food should be quick to grab and eat, so don't try to make any dessert that has to be served up in a bowl. It is better if they can self serve on a paper plate so the guests won't miss the game.
The best thing to do is to have a tables set up for the food to be put out on. If you you one for snacks and drinks, and another for the hot foods that you bring out from the oven. That way you will have room to place each. You can dress the table cloth up to look like a green football field. You can get napkins, paper plates, and cups with footballs printed on them. That way you have a theme that is fitting for the big game day.
By Victoria Brown