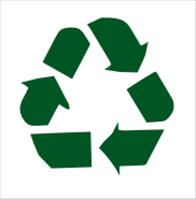 recycling logo
Digital News Report – Reduce, reuse, and recycle are three ways to minimize waste products, and on November 15, 2010 is America Recycles Day. This is a national event that is intended to help raise awareness for US residents on ways to recycle and to educate us on the importance to reduce and recycle waste. Recycling centers, trash companies, and even electronic retailers have made efforts to encourage recycling. Here a few of the ways you can recycle your old electronics, batteries, and inkjet cartridges.
Best Buy last year collected 120 million pounds of electronics and appliances in 2009 as part of their recycling program. They have a website explaining all of the ways you can recycle your electronic waste at www.bestbuy.com/recycling. There is a recycling fee of $10 for computers and monitors, but you get a $10 Best Buy gift card at the end of the transaction. In some states there isn't a recycling fee. The Best Buy brands, Insignia, Dynex, and VPR Matrix are taken at no charge for recylcing. Some of your old electronics might actually be worth some money too. If not there is a convenient drop off at the front of their stores for batteries, CD/DVDs and used inkjet cartridges.
Staple's Recycling Program is also available as well. They offer free Dell brand recycling for electronics and a $10 fee for other brands. They also accept used ink and toner cartridges with up to 10 per year and you can get $2 in Staples Rewards. Small computer parts such as keyboards, mice and speakers are taken at no charge.
There are often free waste recycling days one to two time per year. You can check with you local government offices to find out when they will be having them. Often the newspapers will publish the dates for the recycling. These drop off days allow local residents to drop off their televisions and electronics at no cost.
By Victoria Brown