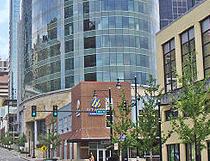 H&R Block Building
Digital News Report – H&R Block, Inc. (NYSE:HRB) posted a huge loss on Thursday leaving investors wondering how the company will turn things around. The share price dropped $0.37 (-2.86%) to $12.57 during trading day on Thursday.
The Q1 2011 earnings data was released after the market closed and in after hours trading the stock price shot up 94 cent (7.48%) to $13.51.
The company announced a net loss of $130.7 million for the quarter ending in July. That works out to 41 cents per share. The company will pay 15 cents a share on 10/01/2010.
Part of that quarter was in the height of tax season when they make most of their profit. A year earlier they posted a $133 million loss for the same period (.040 per share). Back in July Barrington Research downgraded the stock from Outperform to Market Perform.
The company has been cutting expenses in an effort to turn things around. They have closed 400 offices and cut the payroll by 400 jobs.
HRB has bought back four percent of their shares which increased their loss per share.
By: Tina Brown