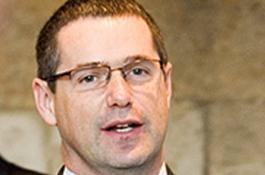 Stephen Conroy
Digital News Report – Yahoo, Google and the U.S. government are expressing concerns over Australia's interest in filtering the Internet. Australia would become the most-filtered democracy in the world.
China is not the only country considering filtering the Internet. Michael Tran, a spokesperson for the U.S. State Department, told the AP that America stands committed to the free flow of information.
"We don't discuss the details of specific diplomatic exchanges, but I can say that we have raised our concerns on this matter with Australian officials," Tran said.
Australia is planning on banning access to sites that contain child pornography and sexual violence. But the government may go further, according to Stephen Conroy, Australia's communications minister. Other sites may include instructions on how to commit crime and use drugs.
The list will be updated after complaints are filed with the agency. The blacklist of sites has not been made public which is raising concerns of censorship without oversight.
Senator Stephen Conroy says there needs to be greater transparency when it comes to content refused classification (RC). "We have a discussion paper that we've issued calling for increased transparency measures," he said. But a list would undermine the filter.
The concern is that a government official could slip something in that doesn't belong there. There may be censors on free speech without anyone knowing it.
By: Mark Williams