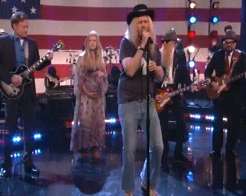 Last Conana Show – See Video Below
Digital News Report – The audience loved the finale to the "Tonight Show" with Conan O'Brien (see video below). Aided by the legacy of Lynyrd Skynyrd, funnyman Will Ferrell sang his rendition of the 1973 hit. Conan even jumped in and played the electric guitar.
Even before the song ended the credits on Conan's last "Tonight Show" began to roll.
The show included Conan telling his fans that they still had an hour to steal everything from the studio. But he was joking of course. He thanked NBC for giving him the opportunity of a lifetime – for most of his adult life that is.
Farrell was on the first Conan show and also the last. Flanked by his wife, Viveca Paulin, Farrell made a statement about the NBC situation. Dressed in their hippy clothes, the Farrell and his wife sang "Freebird". ZZ Top and Beck Hansen helped out.
Earlier in the show Neil Young also sang "Long May You Run".
Conan is leaving NBC and is rumored to be negotiating with FOX for their late-night spot.
By: Jael Kirk