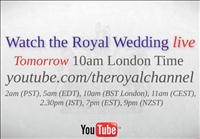 see below
Digital News Report – The Royal Wedding of Prince William and Kate Middleton is only a few hours away and you can watch it online with live stream video coverage being presented on the Official YouTube Channel of the British Monarchy. The marriage ceremony will begin with the online live streaming at 10:00am BST (9:00 am GMT, 2:00 am PT, 5:00 am ET).
The events that will be covered is the wedding procession and the marriage ceremony at Westminster Abbey. The procession begins at Buckingham Palace and then travels down The Mall road. Then they will head right toward the Guards Memorial and continue onto Whitehall road and end at Westminster Abbey. Throughout the day there will be updates of what is going on for the rest of the wedding day events.
You can send a video wishing the soon to be newlyweds the best of luck at The Royal Family YouTube channel by clicking the link that says "Wedding Book". You will also have to browse to their channel to see the live streaming video of the wedding procession and wedding.
If you miss the live streaming broadcast online of the wedding of Prince William and Kate Middleton, they will have video on their YouTube channel that will be able to be watched of the marriage ceremony and events later on that day.
By Victoria Brown
Watch the Royal Wedding Live on YouTube promo video