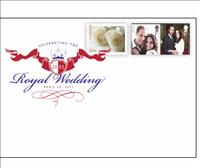 Royal Wedding Souvenir Cover
Digital News Report – The US Postal Service have announced that they will be selling limited quantities of Official Royal Wedding collectibles that are not meant for mailing. The collectibles are keepsakes to commemorate the wedding of Prince William and Catherine Middleton. The limited edition stamps collectibles of the Royal Wedding will start selling on Thursday, the day before the wedding.
The collectibles are also going to be sold by the British Royal Mail. US collectors can buy the Royal Wedding Presentation Pack, which comes with an illustrated brochure with miniature sheet of The Royal Wedding stamps. There is also a story how the couple met. This pack sells for $7.95 at the US Postal website at www.usps.com/shop or by calling their toll-free number at 800 782-6724.
There is also the Royal Wedding Miniature Sheet which has four stamps of two different engagement photos. This was produced by the British Royal Mail. Each sheet sells for $6.95 US.
The US Postal Service has created the Royal Wedding Digital Color Postmark Souvenir Cover, which will sell for $4.95 and is on a No. 10 envelope that has the Wedding Roses Forever Stamp along with two Royal Wedding stamps that are from the British Royal Mail. There is an imprinted British flag and crown that has the date April 29, 2011 which is the date of the Royal Wedding.
By Victoria Brown