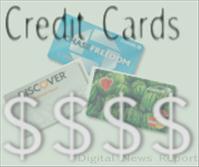 Digital News Report
Digital News Report – When people look for a new credit card offers what do they look for? According to comScore's newest Online Credit Card Report, they found that cardholders looked for certain features and rewards when shopping for a new credit card.
The survey was conducted in December 2010 with almost 2,000 Internet users in the US responding to their questionnaire. While there were many questions asked, the most interesting information was the kind of features and rewards that potential cardholders were looking for when applying for a new credit card.
The most important feature that a cardholder looks for when shopping for a new credit card is a low APR or interest rate. There were 40 percent surveyed that felt the interest rate of the credit card was the most important. Then there was 28 percent that felt that having No Annual Fee was the second most important feature. Third most important feature, with 13 percent, said they looked for a Rewards or Points programs. Only eight percent were concerned if the credit card was excepted at most places. Five percent were concerned with the reputation of the bank that issued the credit card. Customer service ranked only two percent as important. And only one percent were interested in a Low APR for Balance Transfer offer with the credit card.
The survey also asked what the cardholder what they were looking for most in a rewards program offered with the credit card. A whopping 57 percent felt that a cash back program was the most important reward program offered. Then it was 13 percent that were looking for Merchant rewards such as gift cards or other products. There was also 13 percent that think that flexible points are most important. Only 10 percent found that airline rewards were most important. A gas rebate credit card reward program only was important for 5 percent. The remaining 3 percent were interested in the charitable donations available with the rewards program.
By Victoria Brown
Source: ComScore.com