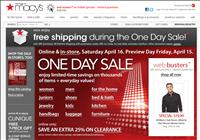 Macy's One Day Sale Event this Saturday
Digital News Report – Macy's department store is having a 1 Day sale for 2011 is going on this Saturday. There is also a selection of Web Buster sale items going on sale this Friday when you enter the coupon code "SAVEMORE" during checkout. In addition to this you can get free shipping when your purchase totals $99 or more, otherwise it is a flat rate of $8 shipping. There is a coupon that you can print on Macy's website that will give you $10 off a purchase of $25 but there are some exclusions.
Macy's stores will be open on Saturday from 9 am to 11 pm for this One Day Sales event. They are calling Friday a "Preview sale day". On both Friday and Saturday there are special discounted prices from 9 am to 1 pm clothing fashion clearances of an extra 60 percent off. After 1pm clothing fashion clearance discount will be an extra 50 percent off and there will be an extra 40 percent of of home clearance items.
Bedding ensembles are discounted, luggage, small home appliances. Extra discounts are for the early morning hours of the sale. For instance you can get a Black and Decker non-stick clothes iron for only $13.99 or a Presto non-stick electric griddle for only $17.99, or a Black and Decker 4 slice toaster over for only $24.99. An 8 piece bedding ensemble by Fairfield are all $39.99.
Also another reason to get shopping early in the morning is the extra discounts on the fine jewelry. There are plenty of great sale items here as well. You can find extra discounts on fresh-water cultured pearl necklaces, bracelets, and earrings. They have diamond rings, necklaces, and bracelets. There are sterling silver jewelry featured as well as other precious gems.
Certain clothing is on extra discount during the morning hours on Friday and Saturday. They have a buy one get one free on Juniors screen printed t-shirts which sell for $14.99 each. Avia sneakers for women are 50 percent off of regular price in the morning sale at Macy's. There is an extra 50 – 75 percent off plus an extra 10 percent off on the certain clearance handbags.
Women's clothing featured during the sale is 50 percent off on selected sportswear and off on career and casual separates, knit tops, and blouses. Bras and panties are 40 percent off for Bali, Maidenform, Warner's, Barely There, Lilyette, Playtex and other brands. Women's suits and dresses are discounted 50-60 percent off. Juniors spring and summer selection of sporty dresses are $17.99. Handbags are on sale 50 percent off on several brands.
Shoes are on sale. If you by 2 pairs get an extra 20 percent off, 1 pair get an extra 15 percent off. Buy three pairs of shoes get an extra 30 percent off. This is an ongoing shoe sale already going on.
At the makeup counter, Macy's has an offer of a Free Clinique 7 piece gift with a Clinique purchase of $21.50 or more. The gift includes 2-in-1 lipstick & Gloss Duo, Clinique Colour compact in pinks or violets, Lash Doubling Mascara in Black, Take the Day Off Makeup Remover for Lids Lashes & Lips, Dramatically different moisturizing Lotion, and a 2 piece floral cosmetic bag set. In addition to this if you buy the offer during the 2 day sale, you can get an extra Clinque travel size Moisture Surge in addition to the gift set.
There is a Kitchenaid sale with a promotion of a bonus Mail in grinder attachment or a glass bowl for their $299.99 stand mixer model. Her are also several other rebate offers going on for small appliances during the sale. Several items have a $10 rebate offer on the kitchen appliances.
There are several 4-piece queen or king comforter sets on sale for only $19.99. Plus there are other 7 piece comforters set ensembles on sale for $69.99. There are also some comforters on sale for 60 percent off of regular price. Macy's is advertising a twin sheet set for only $8.99.
Luggage sets are on sale too with 50 percent off and and extra 10 percent off on TravelPro, Ricardo, Calvin Klein, Revo, High Sierra, Samsonite, London Fog Oxford Classics, and more selected brands. There is also and extra 40 percent off on their clearance luggage selection.
A selection of casual china is 50 percent off. There is also 50 percent off on Dublin Crystal serveware, drinkware sets, and accessories. Martha Stewart Collection, Open Stock Fiesta, Espana and other brands of dinnerware are 40 percent off during this sale. Plus there is an extra 40 percent off on serveware, gifts, and more in this department of the store.
Perspective area rugs are and extra 20 percent off and all other rugs are 10 percent off. Plus there are some high end sofa furniture sets on sale during the sale. There are also patio furniture sets on sale. Macy's is offering no interest store financing if paid off in 12 months with no down payment for qualifying customers.
This is a sampling of the sale items featured at the Macy's department store sale this weekend. To see all the items on sale look for an ad insert in the local newspaper or visit macys.com to see the advertisement online. Also don't forget to print your coupon and use your coupon code to save extra money.
By Victoria Brown
Click here to find the Current Sales at Department Stores and More