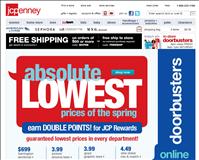 JcPenney announce 2 Day Spring Sale
Digital News Report – JcPenney has launched a 2 Day sale event for their lowest prices of the Spring going on Friday and Saturday. They will have special doorbuster sale items on Friday between 3pm until closing and on Saturday between 9 am until 1 pm. JcPenney is also offering double JCP reward points when you buy qualifying items now through April 16.
Doorbuster sale items are $3.99 each for either guys screen t-shirts and Junior (young women) Arizona & City Streets brand solid color t-shirts. They originally were priced between $10 – $12 each. There is 30" x 54" Home Expression bathroom towels on sale for $3.99 which regularly sell for $10. At their website, jcpenney.com there are special online doorbuster sale items.
There are many great sales on spring and summer clothing at this JcPenney sale. There are girls' dresses 55 percent off ranging in price between $7.49 – $26.99. Mens or Guys' Arizona brand shorts for only $13.99 which is 60 percent off the original price.
Women's clothing for spring and summer are featured in this sale. You can get misses and petite sized t-shirts for $4.99 and women's sizes are $5.99 for St. John's Bay crew or v-neck t-shirts. Misses and juniors dress are 50 percent off original price and are on sale from $17.99 to $44.99. You can stock up on bras with several brands included you can Buy one and get 1 for $1.00. Active separates for misses petites and women sizes are 50 percent off for SJB Active brand. Career clothing is on sale with Worthington brand separates for misses, petites, and women for 50 percent off. St. John's Bay sandals are on sale for a buy 1 get 1 for $1.00. 2 pairs of Flip Flops are on sale for $4.99, plus all women's flip-flops are on sale. Liz Claiborne and Worthington handbags are 40 – 50 percent off.
There are several dress shirts on sale for men, along with casual clothing as well. The Stafford long sleeve performance dress shirts or ties are $17.99 each. Short sleeve Stafford dress shirts for men are $12.99. The Van Heusen long sleeve dress shirts or neck ties are $19.99 each.
Other household items are on sale. You can get 60 percent off on Samsonite litespeed luggage in black or red colors. They also have selected Protocol luggage sets on sale, a 3 piece for $78.88, and a 4 piece for $138.88. Their JCP Home 12-piece stainless steel cookware set is on sale for $38.88. Bali Made-to-Measure blinds and shade are 70 percent off. The Studio brand 84" curtain panels are on sale for $26.99 each. There is a promotion for Buy 1 get 1 for 88 cents for Bed Pillows.
This is just a sampling of the sale items going on for JC Penney's 2 Day sale. There are many other items on sale.
By Victoria Brown