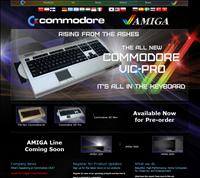 Commodore USA announce new Commodore 64 computer
Digital News Report – Commodore USA, LLC has announced a Commodore 64 computer that may look like the 1980's model, but has all the fast new technology that you would expect in today's computer systems.
Fond memories of the Commodore 64 still reign with many. The 1980's brought the Commodore 64 personal computer into the homes of many families for the first time. The company went bankrupt in the 90's but there was still some rights to the name that were purchased at the end of this computer companies operations. Commodore USA LLC has licensed the rights to recreate the Commodore 64 into a new product.
The new computer has a Commodore 64 emulator that comes with it so you can run some of your classic favorites and see the command line prompt that you haven't seen in years.
The operating system that comes with the new Commodore 64 is Ubuntu 10.04 LTS Linux based OS, but you can buy and install Microsoft windows operating system on it if you so desire.
The Commodore 64 updated model is expected to ship between middle part of May or early June. The company's website at www.commodoreusa.net, said that the price for the Commodore 64 basic system starts at $595 and goes up to $895 as they upgrade hardware components. If you are a do-it-yourself computer system builder you can buy the barebones Commodore 64 keyboard chassis case and card reader for $250.
Barry Altman founded Commodore USA, LLC in April of last year to bring back the nostalgic memories of Commodore and Amiga branded computers. There is also plans to bring back the Amiga computers.
By Victoria Brown
Commodore 64 promo with Disney's Tron Movie – Youtube Video