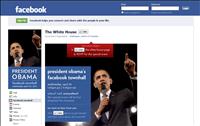 Obama's Facebook Town Hall Event
Digital News Report – President Obama will be traveling to Facebook corporate headquarters to participate in a Town Hall meeting on April 20, 2011. The event will be streamed online live at 1:45 p.m. Pacific Time (4:45 pm Eastern Time). The discussion will be focused on the economy and you can ask your own questions that might be selected for President Obama to answer during the Facebook Town Hall meeting.
To ask your question you need to fill out a form at http://www.whitehouse.gov/facebooktownhall. Or you can visit http://www.facebook.com/WhiteHouse which is the White House's Facebook page. This is where you can post questions to the event's wall page. The people at Facebook will be selecting the questions to be asked during the Town Hall meeting. By liking the White House's Facebook page you RSVP for the special Town Hall meeting event.
On Wednesday, April 20, you will be able to visit either WhiteHouse.gov/live or facebook.com/WhiteHouse at 1:45 pm Pacific Time (4:45 ET) to watch the streaming live event.
By Victoria Brown