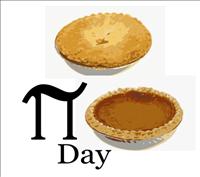 Digital News Report
Digital News Report – Pi Day is this Monday, March 14, 2011 and it is a celebration of that number 3.14159265~. No, it is not the food but many Pi Day people will eat pie. Pi is the π (pi) number which is that number which is commonly truncated to 3.14 which otherwise would go on, and on, and on. See the reasoning for making it Pi Day on March 14th every year is to reflect the number pi (3.14), which is 3 is for the month March, and 14 for the day.
So what is Pi good for? If you haven't had a math class for a while here are the most common equations that Pi is used for calculated circles area and the volume of a cylinder.
To calculate the surface area of a circle you use the equation: Area= pi multiplied by the radius squared.
To find the volume of a cylinder you can calculate this by using Pi multiplied by the radius squared multiplied by the height.
Another thing to do for Pi Day is set the the Guiness Book of World's Record for the most digits of the number Pi memorized. The current record holder is Chao Lu from China who recited from memory 67,890 places of the number Pi on November 20, 2005.
If that is too much you might want to take the easier route and eat pie which is a common thing to do on Pi Day. You eat pie on Pi Day! That is the food that just happens to be a circle too. I guess math nerds have a sense of humor. So what kind of pie are you going to eat on Pi Day?