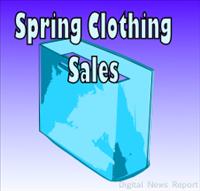 Digital News Report
Digital News Report – It is time to shop for Spring fashions and Old Navy and Banana Republic are having a sale on their clothes. Eddie Bauer has a great sale going on.
Old Navy is advertising a selection of clothing for men and women starting at $14.50 and for kids starting at $9.50. The Old Navy website was not working at the time of this writing.
Banana Republic has a sale of selected Spring fashions for men and women with 40 percent off. The women's clothes feature flattering t-shirts that have gathers strategically placed. There are lightweight spring cardigans in light colors. There are several tunic style shirts for sale her as well. The men's fashions on sale include jeans, slacks, button down shirts, sport jackets, spring coats, and knit pullover and t-shirts.
Eddie Bauer's sale is offering up to 60 percent off on selected items. Plus you will also be able to get free shipping when you enter 'FRSHIP' during checkout. The clothing includes items for all different seasons. So you can stock up for spring or get ready for next Fall.
These are just a few online clothing sales going on for Spring.
By Victoria Brown