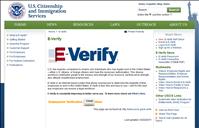 E-Verify website
Digital News Report – Your potential new employer may use the E-Verify government program to see if you are eligible to work. The Department of Homeland Security and the Social Security Administration are responsible for the E-Verify system and they have now allowed people to check on their own status with E-Verify and correct any errors before looking for work.
The self check is being made available to people who live in Arizona, Idaho, Colorado, Mississippi, Virginia or the District of Columbia starting on March 21, 2011. The DHS said that they will add more states in the coming months.
The government doesn't share with the prospective employer if the person completed a self-check. The employer would still need to conduct the E-Verify for the person that they are looking to hire.
What the E-Verify program looks at the Employment Eligibility Verification Form (I-9) and compares it against federal government databases to see if they are eligible to work. There could be potential errors such as a name change that hasn't been reported or other errors that could cause problems with getting hired. You can work on correcting the errors before seeking employment and it is free to use the online E-Verify system.
To learn more about the E-Verify program visit www.uscis.gov/everify.
By Victoria Brown