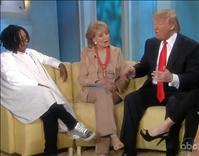 see below
Digital News Report – Donald Trump was a guest on ABC's 'The View' daytime talk show on March 23, 2011. The conversation quickly became heated when co-host Joy Behar asked Donald Trump in the interview if he was a Birther. This got quite a debate going on the show and Whoopi Goldberg seemed offended by what Trump said.
Donald Trump said that he is a Republican and he said that he is not a fan of Obamacare. Joy Behar asked if Trump was a Birther? A birther is a person that wants to have President Obama show his birth certificate to prove that he was born a citizen of the United States. Many people believe that he is not a natural born citizen of the United States. If he wasn't born in the United States he would not be allowed to be President of the country.
Trump said that everybody else has to show their birth certificate and so should President Obama. He asked why wouldn't he show his birth certificate. Trump said that nobody from his early years remember him and wonders why he wouldn't show his birth certificate.
The ladies said that why should George Bush have to show the certificate?
Whoopi Goldberg asked isn't Hawaii part of the United States?
Trump said that President Obama doesn't want to show the birth certificate because there is something he doesn't want to show.
Whoopi Goldberg said that "I think that the biggest pile of dog mess I've heard in ages." She adds it isn't because he is black is it?
Donald Trump said that he is thinking about running for President but he hasn't made a formal announcement. Barbara Walter asked if his failed marriages would hurt his chances of being elected. He didn't think that mattered, he felt that running the country was more about business than ever before. He thinks people wants someone to protect them now. Walters asked if he would have Sarah Palin as his Vice President running mate. He said he wouldn't announce his running until this summer.
Trump said that United States could be destroyed because of the financial status of the country. He said that the countries that we help out with our military should pay for our services. You can watch the interview below or the full episode at http://abc.go.com/watch/the-view/SH559080?cid=YTV_VIEW.
By Victoria Brown
Whoopi Goldberg and the ladies on 'The View' interview Donald Trump about President Obama birth certificate