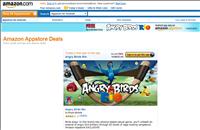 Amazon App Store launches
Digital News Report – Yippee! Amazon has entered the Android App selling business. You can also get the Angry Birds Rio for Android for free today only. Why all the excitement you might ask? Well Android tablet users and those that have a terrible time accessing Google's Android Marketplace will be able to get more apps than ever before.
Users can get set up relatively easy with their mobile devices. One problem tablet and some mobile phone users had was that they couldn't directly access the Android Marketplace which left them at the mercy of the third party seller website often controlled by the phone company or the tablet company. This often limited the selection of apps they could get access to.
I couldn't wait, so I tested shopping at the Amazon App Store with a Tablet PC with Wi-Fi only that has Android on it. I downloaded the free app for the day, which was Angry Birds Rio and it worked. The kids and I enjoyed playing the original Angry Birds game and this would be fun to play as well. The best part was that I was able to get the app loaded on the tablet! It was a happy day for me, as it can be so frustrating to get apps when you can't access the Android Marketplace.
Another benefit to shopping at the Amazon App Store is that they let you test it out before you agree to buy it. So you don't have to worry about buying something that isn't going to be left unused. Amazon will also be offering a free paid app everyday so if you are looking to add some good apps for free to your Android mobile phone or tablet you can check back each day to see what they are offering.
To check it out and get your Free paid Android app visit amazon.com/appstore.
By Victoria Brown