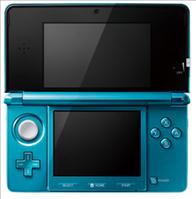 Nintendo 3DS
Digital News Report – Nintendo 3DS handheld video game system is going to be available on March 26, 2011 and Best Buy will be having a special midnight launch event at their Union Square store in New York City on Saturday. There also will be early openings at other Best Buy stores nationwide. If you can't make it to the events, you can also pre-order the Nintendo 3DS game console online with Best Buy. The MSRP for the Nintendo 3DS is $249.99.
The Nintendo 3DS is the first portable gaming device to have 3D that doesn't need any special glasses. The handheld game console comes with games and applications already installed, so you can play it without investing in extra games right away. If you want to buy games for it, there will be several games available on March 27. There will be Nintendo's Pilotings Resort, Steel Diver, and there is also third party games which include EA's The Sims3, EA SPORTS, Pro Evolution Soccer 2011 and Madden NFL Football. There is also the popular Konami Digital Entertainment, Inc.,video game LEGO Star Wars III: The Clone Wars. There is over 30 games that will be available by the beginning of June 2011.
The special Nintendo launch party at the Union Square Best Buy store will have demonstrations, food, music, and giveaways from Nintendo and Best Buy. Of course, you can also buy your Nintendo 3DS and be one of the first people to own the device. If you don't live nearby, Best Buy will have nine other locations that will be opening at midnight nationwide so you can get one too.
If you don't feel like running to the store, you can also pre-order the Nintendo 3DS unit online at the Best Buy website.
There are also other major Nintendo 3DS launch parties in other locations. You can find out more about them at http://www.nintendo.com/3ds/events.
By Victoria Brown