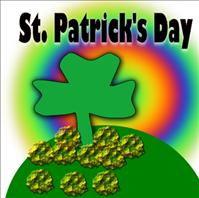 Digital News Report
Digital News Report – St. Patrick's Day is March 17, 2011, and it is a holiday that is widely celebrated by many people. The holiday originated from Ireland. There has been many different themes for the holiday and there are many sayings for the day. There are all kinds of Irish sayings, icons, and things that is associated with St. Patrick's Day.
What is a Blarney Stone? It is an actual stone that is built in the Blarney Castle that is located in Blarney, Ireland. The stone has been kissed by millions of visitors because the legend goes if they kiss the stone they will have the gift of gab. Because of this blarney has been associated with the meaning of buttering up people or beguiling flattery to get what you want.
Slainte is Gaelic saying meaning cheers or health. It said in Ireland, Scotland and the Isle of Man during a drinking toast. According to Wikipedia, saying sláinte mhaith translates to "good health" while just saying slainte translates to "health." But if you say slàinte mhòr that translates to "great health."
The shamrock is the symbol you see during St. Patrick's Day. The shamrock is a symbol of Ireland and is a three leaf clover. It is associated with Ireland and the holiday because Saint Patrick, who was a missionary bishop to Ireland and taught the holy trinity using the three leaf clover as an example of the Father, Son, and Holy Spirit. March 17, was the day that he died and later the Catholic church named him as a Saint.
The shamrock clover has been believed that it if you find a four-leaf clover you would have good luck.
Leprechauns are another theme for St. Patrick's Day. This is character comes from Irish folklore stories of a fairy character that is an old man that dresses in either a red or green coat. They have been known to cause trouble and they make shoes and stash their gold coins at the end of a rainbow. If you are lucky enough to capture one of the mythical leprechauns they are supposed to give you three wishes. That is why there is often kid's craft projects making a trap for them.
Here is an old Irish Blessing saying :
May your blessings outnumber
The shamrocks that grow,
And may trouble avoid you
Wherever you go.
– Author Unknown
Happy St. Patrick's Day!
By Victoria Brown