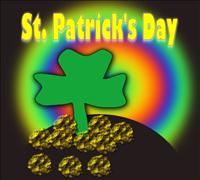 Digital News Report
Digital News Report – St. Patrick's Day is Thursday this week, as it is on March 17, 2011. This is a fun day to do crafts for St. Patrick's Day both for kids and for adults. Here are some craft ideas to help celebrate the holiday.
Rainbows and Shamrocks paper crafts for kids
There are several ways to make a rainbow and have the end filled up with gold. The simplest is to get construction paper and assemble layers together to create an arc. You can use a glue stick to assemble the rainbow. Have the kids draw out an cut a black pot, and cut small gold coins to glue on top of the black pot. Glue the black pot at the end of the rainbow. Cut out small shamrocks and glue on the rainbow. Now hang the artwork on the wall and enjoy!
If you don't have enough colored paper to make a rainbow, then it's time to get the crayons out or the paints out to have the kids color a rainbow. You can even have them decorate a large sheet of white craft paper with clover leafs. If you have more than one kid have each one paint a rainbow and have them write what their pot of gold is at the end. And then glue each one on the shamrock decorated paper to display.
Kids always loves holiday themed coloring pages. There are several free printable coloring page websites that you can print out your favorite St. Patrick's Day ones.
For more great paper crafts for celebrating St. Patrick's Day visit: http://learningenglish-esl.blogspot.com/2011/02/st-patricks-day-crafts.html
There are some fun craft projects to make of leprechauns at http://familyfun.go.com/st-patricks-day/st-patricks-day-crafts/ . They have the cutest toilet paper craft of a leprechaun that looks fairly easy to complete.
St. Patrick's Day crafts for Adults
You might want to get crafty for the day and do something special for the day. This might include throwing a party that is decorated with the theme.
Martha Stewart has a host of different crafts to make the day special. You can find her St. Patrick's Day craft ideas at http://www.marthastewart.com/photogallery/st-patricks-day?lpgStart=1&currentslide=4&currentChapter=1.
Better Homes and Garden website has a great selection of craft ideas that you can do for St. Patrick's Day at http://www.bhg.com/holidays/st-patricks-day/crafts/. They have sewing projects and also paper crafts. They have a cute leprechaun hat that you can make to fill with anything that you like.
This is just a few ideas to get creative for this St. Patrick's Day. There are many websites that offer free craft patterns for holidays such as St. Patrick's Day.