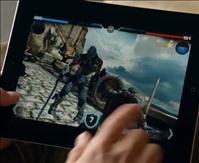 see below
Digital News Report – Best Buy announced that they will have the Apple iPad 2 tablets on March 11 starting at 5 pm local time at their stores and and select Best Buy Mobile stores.
In order to be amongst the first to buy an Apple iPad from Best Buy you need to be first in line starting at 4:30 pm to receive a ticket that gives the chance buy the new iPad 2 that starts at $499. If you can 't get it that day, they will offer those at the store a chance to reserve an iPad 2 for pick-up at their store on March 12, but you would have to provide a $100 deposit which is fully refundable.
What is new about the new Apple iPad 2 tablets? They have been made 33 percent thinner and are now 15 percent lighter than the first generation models. The iPad 2 has two cameras, on front-facing VGA camera, and one rear-facing camera with 720p HD video recording capabilities.
The Apple iPad two has Dual-core A5 chips for faster processing. There is an optional iPad Smart Cover that is magnetically aligns and when you open or close it the iPad 2 will either wake up or go in sleep mode, and then the cover changes into a stand for the iPad 2 to hold it upright when you want to watch videos or use it for typing. The iPad Smart Cover comes in ten different colors.
By Victoria Brown
Apple – Introducing iPad 2 YouTube Video product demo