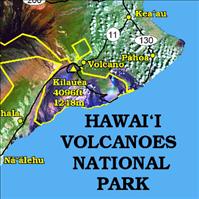 Hawai'i Volcanoes National Park
Digital News Report – The Hawai'i Volcanoes National park has closed some parts of it because of the recent eruptions. The US Geological Survey said that Hawaii Volcano eruptions have been elevated to Aviation Code Red.
The Hawai'i Volcanoes National Park released an announcement regarding the closures:
In response to the current volcanic conditions, Hawai'i Volcanoes National Park has closed the Chain of Craters Road and all east rift zone and coastal trails, along with the Kulanaokuaiki campground, until further notice.
In the last 24 hours, the USGS said that the Kilauea volcano continues to erupt. At the east rift zone there was an eruption that started Saturday afternoon but were intermittent near the Pu`u `O`o. Pu`u `O`o Crater and were inactive flows at the TEB/Nov. 29 location. The lava lake level at the summit were deep below the rim of the vent and there was seismic activity.
There was a total of 18 earthquakes pinpointed to the Kilauea volcana with ten of them clustered near the east rift zone and five others were beneath the summit location. The three other earthquakes were located on the south flank faults.
Eighteen earthquakes were strong enough to be located within Kilauea volcano – 10 were clustered in the east rift zone near the fissure eruption, five were beneath the summit area, and three were on south flank faults.
There is considerable amounts of sulfur dioxide being released which is 1 km downwind of the vent areas and could be potentially lethal.
By Victoria Brown