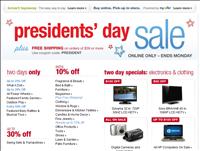 Kmart Presidents Day Sale 2011
Digital News Report – Kmart is advertising their Presidents Day Sale that has some online only specials for the next two days. The holiday sale ends Monday. Free shipping is offered with orders of $39 or more for most everything on their website when you use the coupon code 'PRESIDENT' during checkout. There are also special online deals on electronics and on clothing. There is a great winter clearance going on for coats and sweaters. Plus there are jeans for the whole family on sale.
Electronics
Sylvania 32 inch LCD HDTV set is discounted $100 off which is selling for $279.99. The Sony Bravia 40 inch LCD HDTV is on sale as well selling for $584.99 which is $65 off of the regular price. There are digital cameras on sale at Kmart as well. There is the Vivatar 7.1 megapixel digital camera in cranberry color for $39.99 which is $20 off regular price. The DXG Pro Gear 1080P HD digital camcorder also has a built in 10 megapixel still photo camera in it and is on sale for $229.99 which is $70 off of regular price. Save $20 off of regular price on the Kodak EasyShare C195 14 megapixel digital camera that has a 5X Optical zoom and a 3 inch LCD display which is on sale for $79.99.
Kmart is also advertising that all HP brand computers are on sale. They have many laptops featured. There are also a netbook on sale as well. The lowest priced laptop was a HP Compaq Presario CQ62-410US, 15.6" laptop model which is on sale for $429.99. The HP mini netbooks have a 10.1 inch display and most of them were selling for $329.99. The 17.3" display HP Pavillion DV7-4280US laptop is on sale for $1049.99.
Clothing
There is a winter clearance sale being featured on Kmart's website at kmart.com. They have many winter coats on sale, sweaters, jackets, long sleeve t-shirts, and so much more. You won't get free shipping on clearance items, so you might want to consider shipping costs when buying in the clearance section.
Jeans for the whole family is on sale. Basic Editions brand kids jeans are $6.99 and men's and women's are $9.99 through Monday.
Swimwear for the whole family is also on sale but online only. They are advertising 20 percent off. Swimsuits for women start at $19.99. Men's swimsuits start as low as $14.99.
Other Discounts
There is an extra 10 percent off on selected Fragrance and Beauty, Bed & Bath, Furniture, Clothing, Curtains and windows décor, throw rugs, dinnerware, home décor, fine jewelry, office products, tools, shoes, lawn & garden, and patio furniture.
You can get an extra 5 percent off on small kitchen appliances, fitness and sporting goods, grilles, and pet supplies.
There is up to 30 percent off on swing sets and trampolines. There is also up to 25 percent off on What A Doll brand dolls. Power Wheels brand up to 20 percent off. Some family board games and outdoor play items are up to 20 percent off. There is an extra 10 percent off on a selection of baby rattles and musical toys for infants.
By Victoria Brown