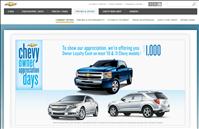 Chevy Owner Appreciation Days through February 2011
Digital News Report – Owners or leasers of a 1999 or newer GM vehicles can get an extra $1000 owner loyalty cash back offer during Chevy Owner Appreciation Days. The Chevy deals and incentive for cash back offer is going on now through February 28, 2011.
GM owners and leasers can get up to $4,500 cash back depending on the model and the financing and payments made. You can get the $1000 cash back deal for most of the Chevrolet 2010 and 2011 models. However, the cash back offer does not include the Chevy Volt or the Camaro convertible models.
Buyers can't combine this offer with some other offers and should check with their local Chevrolet dealer for what options are available for them.
By Victoria Brown