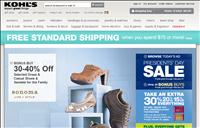 Kohls Presidents Day Sale announced
Digital News Report – Kohl's President Day Sale is going on now through February 22, 2011. Kohl's is advertising over 100 earlybird specials for their Presidents Sale event on Saturday between 7 am and 1 pm. They have many items on sale with 40-50 percent off on their Bonus Buys. Here are some deals to be looking for this weekend at Kohl's department store this weekend.
Women's
Women's Croft & Barrow and Sonoma life + style sportswear is on sale this weekend. If you make it to the earlybird Saturday sale you can get between 50 – 60 percent off (7 am – 1 pm) and after 1 pm you can get 40 – 50% off. A selection of Chaps branded clothing is 40 – 50 percent off. They have a selection of classic or updated clothing styles 40 – 50 percent off. Plus-sized clothing for women is discounted between 40 – 65 percent off this Presidents weekend. Fila Sport, N.Y.L., and Tek Gear athletic clothing is all 40 percent off. The entire Elle brand clothing is 30 – 50 percent discounted. LC Lauren Conrad apparel. Maternity clothing selection is 35 – 50 % off and there is a sale on a selection of Gloria Vanderbilt Amanda Stretch Jeans for $21.99 with is $8.00 off regular price.
Juniors
Mudd & So brand clothing is on sale with 50 – 55% off at the Saturday Earlybird sale event, and 40 – 50 percent off after 1 pm. They also are having 40 percent off selected dresses and dress pants. There is 40 – 60 percent off on tops and activewear. They have 40 – 50 percent off on a selection of sweaters.
Men's
On the Super Saturday Earlybird sale event you can get Urban Pipeline jeans for men for only $13.99 (between 7 am – 1pm) and after 1pm they are $17.99. Select sports shirts for men are 50 – 60 percent off at the earlybird event and then after they will be 40 – 50 percent off. Casual pants will be discounted as well with 45 – 55 percent off for the earlybird event and 40 – 50 percent off afterwards.
Shoes
Selected athletic running and walking shoes are going to be an extra 10 percent off during Kohl's earlybird sale this weekend. So if you are looking to get some new runners or sneakers, this might be a good deal. There is also 30 – 40 percent off of a selection of dress and casual shoes for the whole family. They entire Keds Savvy & Bop Toning shoes for women are on sale for $36.99 which regularly sell for $54.99. Other shoes on sale are selection of men and women walking, cross-training, and basketball shoes which are discounted between 25 – 50 percent off. A selection of running shoes for men and women are 20 – 40 percent off.
Bedding
Kohl's is advertising 'The Big One' bed pillow for $3.99 for the earlybird sale. You can also get an twin mattress pad for $12.99 for the early Saturday sale. Bedding ensembles are all on sale with 40 – 60 percent off during the earlybird sale, and 30 – 60 percent off afterwards. There are also discounts of 50 percent off selected bed sets and quilts. You can get 50 – 60 percent off on a selection of blankets, down or down-alternative comforters, and on sheet sets. They have 50 percent off on selected bath towels and 40 percent off on a selection of bath collections. They also have bath rugs discounted 45 percent.
Home Décor
Kohls' is advertising a doorbuster of a 24 opening photo collage frame selling for $17.99 at the earlybird sale, which is regularly priced at $39.99. They also will have 55 percent off on frames, framed art, and metal wall décor at the early bird sale and afterwards it will be 50 percent off. You can also get rugs, decorative pillows, candles, clocks, and storage with huge discounts.
Kitchenware
Kohl's kitchenware department has a deal on a 16 piece Pfaltzgraff Taos dinnerware set for $59.99 regularly priced at $119.99. There is also small kitchen appliances selection on sale between 20 – 50 percent off. Food preparation gadgets and gear are 10 – 30 percent off selected items. There is also 50 off on selected table linens and kitchen towels and such. Selected cookware is 10 – 40 percent off.
Electronics
They are advertising the 7 inch Wi-Fi wireless The Sharper Image Literati ebook for only $69.99 during their earlybird sale this weekend. This ebook reader works with the Kobo online digital book store.
They also have a selection of floor care products discounted between 10 – 20 percent off. Personal care electronics are discounted 25-50 percent off. Video games are all on sale with 15 percent off.
Other Discounts and Savings
If you use a Kohl's store issued credit card you can get an extra 30%, 20%, or 15% off of everything. The way this works, when you go into their store, you go to the register or to an employee of the store and show them your store charge card and they will give you a scratch-off card. This discount card is valid for the whole day of the sale event.
Kohl's also gives you $10 in store credit coupons when you spend $50 worth in purchases. For each additional $50 spent, there will be an extra $10 added to the coupon. The Kohl's cash coupons can be used to purchase items in the store.
These are a sampling of discounts being advertised at Kohl's for this Presidents Day weekend sales event. You can find out more about their sale at Kohl's website at kohls.com.
By Victoria Brown