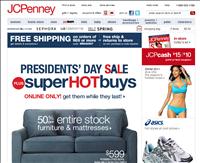 JCPenney announce Presidents Day Sale for 2011
Click Here for JCPenney Presidents Day Sale 2012 info
Digital News Report – The early shoppers gets the saving at this year's JCPenney Presidents Day Sale which is offering extra discounts on this February 18 and 19, 2011. The department store is offering a coupon that you can get in today's newspaper ad insert or print online at their website for either $15 off of a purchase totaling $75 or more or $10 off of a purchase totaling $50 or more. You can also get these discounts on their online store using the coupon code "USGRANT" when enter the promotion during checkout. Here is some of the sales and specials going on for JCPenney this weekend. Also don't forget to check out their winter clearance deals with up to 80 percent off of the original price.
Women's Clothing
In the women's department there are many discounted items going on during this Presidents Day Sale at JCPenney. Dresses are 40 percent off on misses sizes. East 5th brand separates are 40 percent off and they included misses, petites, and women's sizes. Worthington pants are on sale for $19.99 and in addition the Worthington separates are also 40 percent off. JCPenney is having a sale on swimwear with discounts between 25 – 40 percent off. St. John's Bay t-shirts for women are on sale for $7.99 each for misses sizes and $8.99 for women's sizes. There is 40 percent off on Xersion and SJB activewear clothing.
Junior's Clothes
You can stock up on Juinors' Arizona solid color t-shirts for only $6.99 each which are regularly priced at $12. There is a 40 percent discount off on the B-Wear clothing collections. Juniors can find discounted cardigans and jackets as well. Arizona brand jeans are 50 percent off for juniors, guys, girls and boys.
Handbags
JCPenny is advertising St. John's Bay handbags are on sale for $29.99 and are originally priced at $50.
Men's Clothing
Men's dress shirts, ties, sportshirts, polos and shorts selections are only $14.99. There is a buy 1 get 1 at 50 percent off on Stafford underwear for men, and for Gold Toe, Nike, Stafford, Simply for Sports, and Hanes brand name socks for men.
Bedding, Bath and Home Furnishings
If you are looking to get new furniture, JCPenney is offering 50 percent off of all their entire stock of furniture. There is also 50 – 65 percent off on their entire stock of mattresses. JCPenney is offering 50 percent off on a selection of sheet sets during the 2-day sale event. They also have 50 percent off on bath towels. For instance you can get a 300-thread count twin sheet set for $19.99. There is a queen sized 7-piece comforter set for $99.99. The entire stock of sheer panels for curtains are 50 percent off and they have 50 percent off on a selection of energy saving drapery panels. If you are looking for new pillows for your home, they have a buy 1 get 1 for $1 sale which range in price between $11.99 – $39.99. There are selected accent rugs on sale for 50 percent off and the entire bath rugs stock are between 40 – 50 percent off.
This is just a sampling of the sales going on at JCPenney this Presidents Day weekend. Many of the items are priced for Friday and Saturday, however it could be possible for more sales to be coming for Sunday and Monday.
By Victoria Brown