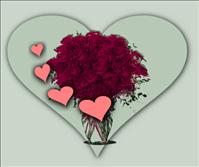 Digital News Report
Digital News Report – Flowers for Valentine's Day is a traditional gifts and ideas to give your love. But with the new technology and Internet there are many new ways to order the bouquet. Here are some of the best ways to get the Valentine's Day delivery of the flowers arrangements for this Monday.
Proflowers
ProFlowers is a way to order floral arrangements. They are offering last minute ordering for the flowers to arrive in time for Valentine's Day. The way that it works is that you can order online and the company has the local florist that they contact with deliver the flowers to the recipient. There are a wide selection of red roses, and other red and pink flower arrangements that can be delivered on February 14th. If you are looking for more for your money have a budget around $40 you will find a good selection at Proflowers.
FTD
FTD is another way to order online and have your flowers delivered by the local florist. They have a selection of red roses in different configurations. If you are looking for the ultimate surprise that have 100 red roses in a vase that can be delivered on Valentine's Day. FTD has a quick way to check your zip code to see if a FTD florist is in your area to be able to deliver your Valentine's Day flowers. FTD has a Sweetheart Deal of the Day which offers sales on specific arrangements. In most cases FTD has same day delivery if you order by 2 pm local time. However, they may have an earlier cut off for holidays. They will also say if they only ship the floral arrangement when you are looking around at their ftd.com website. You can still find $40 flower arrangements at FTD but you will need to search a little bit more outside of the Valentine's Day selection. It seems like the have more in arrangements in the $60 range for the Valentine's Day flowers.
1800Flowers.com
The 1800flowers.com website is set up when you first visit the website you the recipients zip code and delivery location and the date you need them delivered. That way you will be able to shop for flowers that will be able to arrive in time for Valentine's Day. This website also will let you know if the flowers are available for same day delivery from a local florist or if they are only shipped. This makes it easy to order without a lot of stress. They also have an easy way to sort by price and see many flower arrangements on one page.
Teleflora
Teleflora.com website is also an easy way to have your flowers delivered in time for Valentine's Day because they also contract with local florists. They have one arrangements starting as low as $29.99. There are many affordable flower arrangements for Valentines day in the $40 price range. But if you are going for red roses, as with any of the flower delivery websites, they are more expensive typically.
Other options for Flowers gift ideas
There are other ways to get your flowers for Valentine's Day. Many grocery stores have fresh flowers, you can also go to the local florist and pick the arrangement up yourself to deliver. If you loved ones love gardening you might want to go to a home improvement store such as Lowes or Home Depot and go to the gardening section and pick out live plants or a rose bush that they can transplant when it is warm enough outside. Another popular option is to get an bulb plant that will grow in a pot such as a Amyrallis or a Lily which often will bloom in spring.
There are also many other online flower delivery services. If you live in a remote location you might want to consider ordering for them to be delivered by a shipping company, but you have to give enough time for the order to arrive in time. Or you could buy them and deliver them yourself.
By Victoria Brown