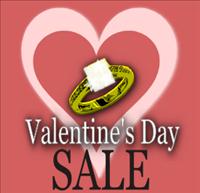 Digital News Report
Digital News Report– Valentine's Day is coming up this Monday, which means that department stores have been promoting many sales this week and weekend. Jewelry, flowers, lingerie, and candy are top gifts for the couples, while for kids it could be toys, books, video games, or candy. Here is some of the sales going on so you won't be left empty handed come Valentine's Day.
Macy's
Macy's has been having a Valentine's Day sale all week. The sale is still going on and you can find savings throughout their store. They have a special promotion going on to get a free Lancome 7 piece gift set with Lancome brand purchases adding up to $32.50. If you spend over $65 in Lancome products you can also get more free gifts of makeup brushes, lotion, and three lipstick colors.
If you are not sure what to get for your Valentine, you can visit their website at macy.com and see a special gift idea section. There is a guy and a girl section that you can narrow by category or by price. That way you can find things that will be perfect. They have cute Sweehart inspired candy jewelry with messages printed on them, like the popular Valentine's candy has. There is electronics gear for the guy as well as clothing.
JC Penney
JC Penney is advertising a lot of jewelry for their Valentine's Day Sale. Online they are offering free shipping with an order over $69 and with the code of 'WEHAVEIT' entered in during checkout. Diamond jewelry is 40 percent off. Women's dresses are 40 percent off. There is is discount of 40 percent on handbags. Lingerie and sleepwear are 40 percent off. Men's JF J. Ferrar clothing brand is on sale for 50 percent off.
Sears
Sears is advertising an extra 15 percent off of Jewelry when you shop online and enter the Coupon code "HEARTS15" during checkout. They have up to 7- percent off all fine jewelry plus up to 30 percent off on watches. You can buy the item online and pick it up at the store so you can have it in time for Valentine's Day. There are plenty of clearance items with up to 70 percent off. There are Valentine's Day gift ideas based on price or by category.
Kmart
Kmart has a special online coupon that you can print out at kmart.com and bring to the store to get up to 20 percent off on Valentine's Day Gifts. They also have a sale going on with a Panasonic Viera 42 inch Plasma HDTV for $49.99 and a Sylvania 26 inch LCD HDTV for $249.99. Jewelry is on sale with up to 70 percent off regular price.
Walmart
Walmart is advertising Valentine's Day sales. They have jewelry on sale with a Diamond accent heart pendant with an 18" sterling silver chain for $28 among other items on sale. They have a wide variety of heart themed jewelry on sale with many items under $80. They have wedding rings on sale as well with one interlocking set selling for $174 for each piece.
Valentine's Day sales usually promotes some good jewelry sales. So if you are looking for that something special it can be a good time to look.
By Victoria Brown
Follow the link to find the Current Sales at Department Stores and More