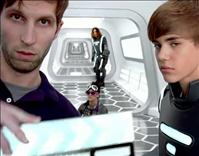 see below
Digital News Report – The Best Buy commercial has been aired on the Super Bowl XLV which stars Justin Bieber and Ozzy and Sharon Osbourne. Now fans have a change to pick their favorite ending.
Both Ozzy and Justin are dressed in futuristic space outfits in a set that matched the high-tech future idea. The Best Buy commercial is showing Ozzy Osbourne saying lines for the director. He doesn't know what 4G is and then he says to ride the 5G train. Then Justin Bieber comes in and takes over for Ozzy, then Ozzy is in the backdrop of the set. Then Bieber says "Bieber 6G Fever." They cut to Ozzy's wife, Sharon, who is talking with Ozzy who doesn't know what 6G is and what is Bieber? Then a set guy says that Bieber looks kind of like a girl. The Best Buy commercial that aired on Super Bowl closed with a plug for the company's buy back program so that you never get left behind on technology.
The Buy Back Program at Best Buy is a new offering from the company and for this week they are offering the program free with electronic purchases at their store. When you purchase an item at Best Buy you can purchase the Buy Back Program option, if you want to trade in most electronics within the two year time period they will take the technology off your hands and issue you a gift card. If you purchased a TV with the Buy Back Program you can trade it in for cash for up to four years. They have a specified buy back amount, if you turn it back in in the first 6 months you get 50 percent of the original price back, 6-12 months you get 40 percent of the original cost, 12-18 months is 30 percent pay back, and 18-24 months you get 20 percent back, and if you have a TV that is between 24 – 48 months you get 10 percent back. To learn more about the Best Buy's Buy Back Program you can visit bestbuy.com.
To vote on your favorite alternate ending you can visit, Best Buy's Facebook page at http://www.facebook.com/bestbuy to make your vote.
In case you missed the Best Buy Super Bowl ad with Justin Bieber and Ozzy Osbourne you can watch it below.
By Victoria Brown