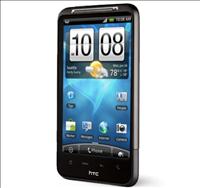 HTC Inspire 4G mobile smartphone
Digital News Report – The HTC Inspire 4G mobile smartphone will be the first to use the Google Android 2.2 OS along with the AT&T Mobile Hotspot application and will be available on February 13, 2011.
The HTC Inspire 4G smartphone is the first released for AT&T faster 4G network. There will be only two 4G devices released in the first quarter for AT&T. In 2011, AT&T is planning a total of 20 4G devices to be released for their new 4G network.
The AT&T Mobile Hotspot will make it possible to use the HTC Inspire 4G as internet connection for up to five Wi-Fi-enabled devices. You have to sign up for the DataPro Tethering Plan which are not unlimited, which means that your phone bill could be higher than expected.
Features of the HTC Inspire 4G mobile phone include a 4.3 inch 480×800 resolution super LCD display and an 8-megapixel camera with dual flash that can also record HD video. The phone has an aluminum casing and has a 1 GHz Snapdragon processor along with Dolby® Mobile and SRS WOW HD sound. The phone has 4 GB worth of internal memory and comes with an 8 GB microSD card for extra storage. The phone will come preloaded with Blockbuster and eReader apps, but to use the service it may cost more money.
People can get the HTC Inspire for $99.99 when they sign up for a two-year commitment with AT&T when the mobile phone is released on February 13. The HTC Inspire will work in all AT&T service areas and the 4G speeds are currently available in limited areas. There is an early termination fee of $325 and in order to get the 4G requires that you have a minimum data service plan of 200 MB internet transfer limit which starts at $15 per month.
By Victoria Brown