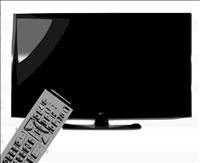 Digital News Report
Digital News Report– HDTV comes in many different sizes and there have been some deals that many retailers have advertised the week before Super Bowl Sunday. Walmart, Target, Sears, Kmart, Radio Shack, and Best Buy are all promoting their LED and LCD HDTV sets.
Walmart is advertising a 40" 1080p HDTV by Philips for $498. There is a smaller HDTV which is a Vizio 32" LCD High Definition TV for $348, however this has a 720p resolution. There is a Vizio 42: 1080p LCD HDTV for $548. Walmart has a 47" Vizio LCD HDTV with 1080p resolution for $698. The largest HDTV advertised this week in their newspaper ad insert is the 55" LCD HDTV which is on sale for $998.
Kmart has a 42" Zenith plasma HDTV with a resolution of 720p and is on sale for $419.99. Kmart advertised a Sylvania 32" LCD 720p flat panel TV with a built-in DVD player for $339.99. There is a Panasonic 37" LCD HDTV with 720p for $399.99. For the cheapest HDTV sets Kmart has a 22" RCA LCD TV with DVD player for $249.99 and a Sylvania 19" LCD HDTV for $169.99.
Target has an Apex 40" 1080p LCD HDTV on sale this week for $379, but this is while supplies last. They also have a cheap HDTV on sale with a Sylvania 19" 720p LCD HDTV for $149. Another affordable unit is the Sylvania 32" LCD HDTV with 720p for only $289. The Samsung 32" LCD HDTV is on sale for $349 and the Vizio 37" 1080p LCD HDTV is on sale for $449. There is a big screen flat panel HDTV on sale at Target. There is the Vizio 47" 1080p LCD HDTV for $679 that comes with free delivery and set up for any TV over 46" in size. The Panasonic 50" plasma HDTV is on sale for $599.
Radio Shack is advertising a Smasung 32" LCD HDTV with 720p resolution for $329.99. They also have a Hitachi 19" 720p LED HDTV which is a cheap HDTV for only $159.99. The AOC 32" 720p LCD HDTV is on sale for $279.99.
Sears is advertising the big screen LED, LCD, and plasma HDTV. If you are looking for a HDTV deal on the large screen sizes Sears might be the place to buy one. They are advertising a Samsung 55" LED 3D HDTV for $1999.99 which is the new 3D television sets plus you get a free delivery and a free Samsung Blu-ray player with this set. They Sony 46" 1080p LED HDTV has internet connection and is on sale for $899.99. Sears also has a 50" plasma 720p HDTV by Zenith for $549.99. For the cheap LCD HDTV units at Sears they have the Samsung 32" with 720p for $349.99 and the Sylvania 22" LCD HDTV for $199.99. Sears has many more models on sale, and they have a large selections of HDTV units.
Best Buy is advertising a bundle of a free Blu-ray player when you buy either the Samsung 55" or the 46" 3D LED HDTV priced at $1,999.99 (55") and $1,499.99 (46"). Best Buy is offering no interest for 3 years if paid in full on purchases made in there Home Theater section adding up to $899 or more. Best Buy also has a large selection of HDTV sets. They have a Toshiba 55" LCD HDTV on sale for $999.99, a Dynex 55" LCD HDTV for $799.99, and a Dynex 40" LCD HDTV for $429.99. For cheaper LCD HDTV units Best Buy is advertising the Insignia brand 19" LED HDTV for $169.99, the Samsung 22" LCD HDTV for $279.99, and the Toshiba 32" LCD HDTV with 720p for $329.99. Best Buy has a Samsung 46" 1080p LCD HDTV for $799.99 for $200 more dollars you can get the LED version ($999.99). These are only a sampling of the HDTV sets that are on sale. Best Buy also offers free delivery on HDTV sets costing over $999.
When shopping for an HDTV unit, decide if you want the LED, LCD, or plasma technology. The LED uses the least amount of electricity, the plasma uses the most electricity. Plasma has been said to offer a good range of color display and is enjoyed mostly in a darker room setting. The LCD is usually a more affordable unit and uses less electricity than the plasma HDTV sets. Other things to consider is warranty and other customer reviews. Doing a little research before making your HDTV purchase can no only save you a bunch of money, but can also get you a good quality HDTV.
By Victoria Brown
Follow the link to find the Current Sales at Department Stores and More