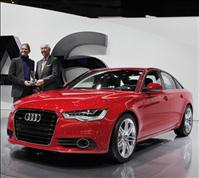 Audi receives "Best Production Vehicle" at the 2011 Detroit Auto Show
Digital News Report – The 2011 North American International Auto Show in Detroit awarded the Audi A6 model the EyesOn Design Award for the "Best Production Vehicle." This is the fourth time in the last three years that Audi has won the EyesOn Design Awards.
The new Audi A6 2012 models will arrive in dealerships in the Fall of 2011. The new model has a sporty feel to the design along with a roomy interior. The interior has curvy design features throughout. The body is made out of aluminum and high-tech steel making it light but strong at the same time said the auto manufacturer. Options available for the Audi A6 include LED headlights, front seats with ventilation and massage functions, and ambient lighting inside the car.
Other EyesOn Design Awards that Audi received includes the 2010 "Best Production Vehicle" award for the Audi A8 sedan model which started selling this past fall. In 2009, the auto maker was also awarded the "Best Concept Vehicle" for their Audi Sportback Concept car.
By Victoria Brown