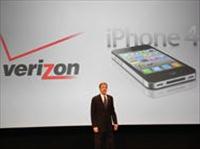 Verizon Wireless announces Apple iPhone coming February 10, 2011
Digital News Report – Verizon Wireless will be offering service for the Apple iPhone 4 beginning on February, 10, 2011. If you are a Verizon Wireless customer you will be able to pre-order the iPhone 4 early on February 3rd. Currently AT&T was the only wireless provider to support the Apple iPhone.
The Apple iPhone 4 is going to be offered at $199.99 for the 16GB version and $299.99 for the 32GB model with a new two year commitment to pay for service with Verizon Wireless.
Features of the Apple iPhone 4 include a 5 megapixel camera that has a LED flash and HD video recording capabilities. The operating system on the smartphone is Apple's iOS 4. There are over 300,000 apps available at the Apple App Store.
Verizon will have the Apple iPhone 4 available at their 2,000 Verizon Wireless Communications Stores nationwide on February 10, 2011. They also will have the phone available to order online at www.verizonwireless.com/iphone. You can also purchase at the Apple Retail store and at apple.com, or at any authorized Apple reseller.
By Victoria Brown