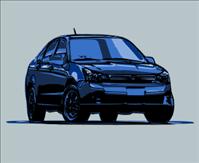 Digital News Report
Digital News Report – Ford unveiled the MyFord Mobile app for smartphones that will let owners of the electric Focus cars to keep tabs on their vehicle even when they are away from it. Ford's mobile phone app will help Focus car owners to monitor charging levels, help plan travel, find charging stations, warm or cool the cars interior or batteries remotely, and other features as well.
You can use either your smartphone or a secure website to use these remote control features for the Ford Focus electric cars. The communication technology of the Ford Focus uses a wireless transmission of data with standard cellular technology.
The My Ford app will tell Focus car owners an estimated driving distance range they have left on the current battery levels. It will also help tell how long it will take to recharge for the desired miles needed to travel. Plus you can find nearby charging stations and know if you car will be able to make it to that location on the current battery power remaining.
The app can change the times your charge your car using off-peak or reduced rate times to charge your electric car. That way you can save on the cost to recharge your vehicle when the electric rates are at their lowest.
You can use the Focus mobile app to help you plan your trip with multiple stops in mind. That way you can ensure that you have enough battery power to go the whole distance, or if you need to recharge you have that factored in as well. If you forgot where you parked you can use the car's built in GPS to help you find it. There is also personalized driving behavior that can be configured to each key used.
By Victoria Brown