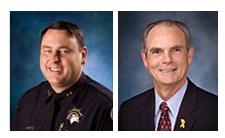 Chief Chris Moore and Mayor Chuck Reed
Digital News Report – The city of San Jose has released salary information in accordance with state law.
The city included the "base pay" along with the "total cash compensation". The base pay includes the wages and time off while the total compensation includes the base pay, overtime, vacation payouts, sick payouts, retirement and more. The survey included retired personnel.
The top payout goes to a retired Deputy Chief of Police earning a total of $471,118. The base pay was $115,506. There are three current Deputy Chiefs earning $220,957 each ($190,122 base pay).
There were numerous retired police captains and sergeants earning more than $300,000 a year.
The Chief of Police, Chris Moore, earns $260,903 ($230,177 base pay).
Mayor Chuck Reed earns $110,058 per year ($109,058 base pay). The rest of the city council earns $105,890 ($91,800 base pay).
The report includes the pay of cross guards and temporary employees.
By Mark Williams