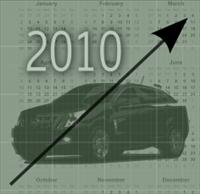 Digital News Report
Digital News Report – General Motors (GM) announced that their Cadillace brand saw a 35 percent increase in new car sales for 2010. GM said that Cadillac is the fastest growing luxury brand for the United States.
In 2010, there was a total of 146,925 new Cadillac car sales. Last Month, there was an 13 percent increase in Cadillac sales compared to the same time last year with a total of 16,718 new cars sold. This is the eleventh month in a row that Cadillac new car sales have seen increases in their totals.
The 2010 SRX model seen demand for luxury crossover customers. During the course of 2010 there was a 153 percent increase in sales with a total of 51,094 new cars sold.
The Cadillac Escalade model seen improvement of 4 percent during the whole year with a total of 26,874 vehicles sold. In December, the Escalade sales were up 16 percent compared to the previous year with a total of 3,814 new cars sold.
One extra perk that is sold with the 2011 Cadillac vehicles is many of the required maintenance, such as oil changes, are included for free for the first four year or the first 50,000 miles. This could have helped push the sales even more.