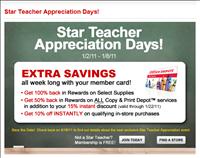 Office Depot announce Star Teacher Program Appreciation Week
Digital News Report – Office Depot is offering their Star Teacher Program from January 2nd through the 8th for teachers to join and get extra discounts and rewards on certain supplies and services. This week there are extra savings, but the teacher savings program goes year round.
For this Star Teacher Appreciation Week, teachers can get 100 percent back in Office Depot Rewards on a selection of supplies for their classroom. Participating teachers can get 50 percent in Rewards earned at the Copy & Print Depot services in addition to the regular 15 percent instant discount on these services. There is also a 10 percent off instantly for qualify products.
According to a survey conducted by the National School Supply and Equipment Association, teachers spend around $936 per school year on classroom supplies and instructional material. Over 92 percent of them had used their own money to purchase some of these supplies.
The Office Depot Star Teacher Program has been going on since 2003 and is eligible for Pre-K through 12th grade classroom teachers. You can enroll for free at any Office Depot store or you can visit http://www.school.com/star_teacher_program_t.html for more information about this program.
By Victoria Brown