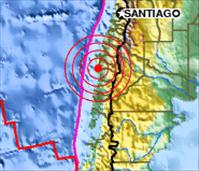 7.1 magnitude earthquake hits Chile today – USGS.gov
Digital News Report – There was an 7.1 magnitude earthquake that shook near Araucania, Chile this Sunday, January 2nd, 2011. The earthquake occurred 5:20:16 PM at the epicenter said the US Geological Survey. The epicenter was located in the central part of Chile's coast. The exact location of the earthquake's epicenter was 38.360°S, 73.281°W.
The closest cities near the earthquake in Chile were Temuco, Araucania (45 miles NW), Lebu, Bio-Bio (55 miles SSE), Los Angeles, Bio-Bio (80 miles SW), and SANTIAGO, Region Metropolitana (370 miles SSW).
The USGS have received 202 reports of how the nearby residents felt the earthquake in Chile. Most respondents said that the earthquake felt moderate. There was a few that reported feeling a strong earthquake.
Damage reports haven't come in yet.
By Victoria Brown