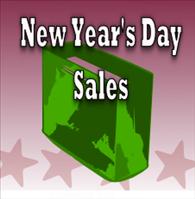 Digital News Report
Digital News Report – Most people will either be sleeping in late or enjoying football or a parade on January 1, 2011, but there are some department stores that will be open on New Year's Day with special sales going on. These New Year's Day sales are either about stocking up on fitness clothes and equipments or getting some great deals on holiday clearance items.
Macy's Department stores will be open on New Year's Day with a special 4-day sale event going on now through January 2, 2011. You should check to make sure what hours they will be open on their website. Plus you should remember to print out there extra savings coupons on their website to get extra discounts at their stores.
Old Navy is having an Holiday After-Party Sale with savings of up to 60 percent off on many items throughout their store and online
Sears is having a 2-day New Years Sale starting today. The department store will be open on New Year's Day from 9 am – 6 pm. They are having clearance sales of up to 60 percent off on clothing, jewelry, accessories and intimates for women. There are some great sales on boots for both women and men. They also have shape up toning walking shoes for 50 percent off. To get a jump start on your fitness they have exercise equipment on sale. There are also advertised major appliances on sale as well.
JCPenney has a 4-day New Years sale going on until January 2, 2011. JcPenney will be open on New Year's Day. There is an online coupon that you can print at JcPenney's website for $15 off a $75 purchase or more or get $10 off a $50 purchase or more. The department store is having a Red Zone clearance with items marked down up to 70 percent throughout the store.
Kohl's is advertising a 3-day New Year's Sale starting this Friday and ending on Sunday. Kohl's will be open on New Year's Day and will offer plenty of sales in all of their departments. They also have a Gold Star Clearance sale with many items marked down between 60 – 70 percent off. They have a final clearance section that is marked off up to 80 percent off.
Many Malls will be open on New Year's Day. You will be able to find clearance items still on sale after the holidays. So check in with your local mall directory to see what their hours are going to be on New Year's Day.
By Victoria Brown