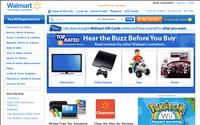 Walmart announces storewide holiday clearance sale
Digital News Report – Walmart is advertising a store-wide clearance of items for their After Christmas Sale event. They also have some great electronic deals and fitness equipment on sale this week.
Storewide Clearance Sale after the Holidays
Walmart is clearancing many items throughout their stores after the holidays. You can get 50 percent off on a selection of Christmas candy and seasonal holiday items, and seasonal home décor. Which means it could be a great time to stock up on wrapping paper and holiday decorations for next year.
Walmart is offering 50 percent off off a selection of toys. If your child received a Walmart gift card they might find something priced just right. In addition there are many DVD movies on sale for $15 each.
Walmart will be having a clearance sale on clothing for the whole family ranging in price from $1 up to $7. Online Walmart has many clothing clearance items as well. So if you can't make it to their retail store you can always shop online.
Electronics
Walmart is still making the Kinect wireless controller for the Xbox 360 available for $149. They also have the Xbox 360 games that work with the motion sensing Kinect controller. There are still plenty of video games on sale for $49.96 with $10 off of a selection of Xbox 360 or PlayStation 3 video games.
Walmart is selling an HP Slimline Desktop computer system with Windows 7 Home Premium for $398. There is also an Acer 10.1" Netbook with 1 GB memory and 160 GB hard drive for only $198.
Fitness Equipment
You can stock up on Fitness DVD's for only $9 each at Walmart. The retailer is alos selling a Weslo treadmill for $287 or a Pro-Form 850T Treadmill for $747. You can also get a Bowflex PR1000 Homegym for $587. There are other weights and fitness equipment also on sale. Plus Walmart is offering zero percent no interest financing with purchases of $299 or more when you use their Walmart Credit Card. However, you need to maker you payments on time each month and pay off the balance before 12 months otherwise you will pay the accrued interest.
With any clearance sale the items will vary from store to store. So you never know what you will find on clearance unless you make a trip to the store. There are also online clearance items to be had at Walmart's website.
By Victoria Brown
Click here to find the Current Sales at Department Stores and More