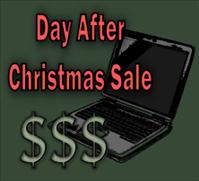 Digital News Report
Digital News Report – Best Buy announced their Day After Christmas Sale and they will open their retail stores early on December 26th at 7:00 am. The sale will also be offering free shipping at the Best Buy website on December 26 through the 27th on many items. If you have a Best Buy gift card that you received this holiday you might be able to find a few deals worth making it out after Christmas Day. Here is some of the items that will be on special at Best Buy's Day After Christmas Sale.
HP Laptop with an AMD Turion processor, 3GB Memory, with an 320 GB Hard drive storage for only $399.99
Many Computer accessories will be discounted. They will have some laptop mouse selections for only $5.99 each.
They will have the Logitech Harmony One remote controller for $159.99 which is $90 discounted off of the MSRP price. This the remote for a person that has a gazillion electronic devices with a coffe table full of remotes.
If you were so lucky to get an Apple iPhone 4 for Christmas you can get cases to protect it at 50 percent off of regular price during this sale.
You can sit back and enjoy your new Blu-ray player by buying some discounted selection of Blu-ray movies which are on sale for $12.99 each during this Day After Christmas Sale at Best Buy.
Best Buy is continuing to offer free smart phones through December 31, 2010. You can get these at the regular retail stores and also at their Best Buy Mobile stores but, you will have to sign up with a two-year contract with the mobile service provider in order to get the free smart phone.
When the sale is up and running you can find out about all the specials at www.bestbuy.com/afterchristmas.
By: Victoria Brown
Follow the link to find the Current Sales at Department Stores and More Electronic Deals