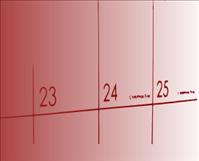 Digital News Report
Digital News Report – If you are wanting to make sure you have your presents delivered in time you still can and also find last minute Christmas Deals. Depending on the online retailer you can still get your gifts sent in time for the holiday, however many are setting cutoffs for shipping in time for Christmas today and some on Tuesday.
Walmart
Walmart shipping schedule for getting your last minute Christmas deals in time for this Saturday has been set for December 20th for standard shipping and site-to-store shipping which will arrive by December 24th. If you order on Tuesday December 21st, you will need to upgrade to 2 to 3 day shipping to arrive on Christmas Eve day. The last shipping day is on Wednesday December 22 with a 1 day shipping which will arrive on by the 24th, that is if you need it it time for Christmas. If you needing it on December 23 or 24 Walmart suggests making a trip to their brick and mortar stores to make sure you have your gifts for the holidays. You have to put your orders in before 11:30 p.m. PT in order to qualify for the dates listed above.
Target
Target online orders is advertising that if you order by Tuesday you will get your last minute gifts in time for Christmas. If they do not say they can get your order in time beyond these dates you may want to go to the retail store to buy the items. You can also find out if they items are available at your local Target store on their website.
Kohl's
Kohl's online shipping deadlines is guaranteeing delivery with Priority Delivery for today and December 21st until 11pm CST for orders to physical addresses in the continental United States. If you still are looking for free shipping, Kohl's is offering free standard shipping on orders $50 and over through December 24th, you just won't get it in time for Christmas.
Macy's
Macy's online orders are offering orders made on December 20, 2010 before 11:59 pm ET will still arrive in time for Christmas for the continental US. If you order December 21, 2010 you will need to upgrade to premium shipping. If you order on December 22, 2010 you will need to upgrade to express shipping. All have the deadline of 11:59 pm ET and there may be limitations.
Kmart
Kmart is recommending that if you need it in time for Christmas to buy it online and pick-up in-store. That way you can shop at your leisure and just have to go to the local Kmart store to pick up your order. Kmart is promoting a Cyber Monday sale today.
Sears
Sears is offering the same buy it online and pick it up at the store if you need it in time for Christmas. But they also expedited shipping if you order by December 22nd by 10 am CST you can have arrive in time for the holidays. If you order on December 23 by 10am CST you will need to pay for premium shipping in order for your gifts to arrive in time.
While all the retailers aim to get it there in time for Christmas, remember delays and shipping problems could always happen. If getting it in time for Christmas is imperative, then you might need to get out to the brick and mortar retail stores and buy it in person.
By Victoria Brown