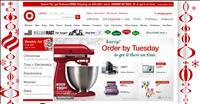 Target announces Last Minute Gifts Sale
Digital News Report – Target is having a last minute gift sale online and at their stores. You can find many deals still for electronics, clothing, toys, appliances and more. If you are a procrastinator, it's time to get that shopping done and even save some money in the process. Many of the items are with free shipping when you purchase $50 worth of qualifying items at their website. Here is some Last Minute Deals that Target is offering.
You can get a women's Reversible Puffer Vest for only $10. You get two colors in one vest so you can color coordinate to several outfits. Blue/Green, Green/Beige, Black/Red, and Cream/Turquoise are some of the colors that are style available.
In their electronics department Target is selling everything from LCD HDTV's, Blu-Ray players with wi-fi, video game consoles and games, digital cameras, and more. Target has a Magellan SE4 Portable GPS Navigation System with a 4.3 inch touch screen for only $69.99 (msrp $119.99). A full sized laptop by Acer Aspire with a 15.6 inch screen and a 320 GB hard drive for $429.99 (MSRP $499.99). They have a deal on an 7 inch Digital Photo Frame with black border using LCD technology for only $29.99 (MSRP $59.99). For an ebook reader under $99, you can pass up this deal with Aluratek Libre Digital eBook Reader with a 5 inch screen $84.99 (MSRP $119.99). If you are looking to update your landline phones you can get a RCA Dect 6.0 Cordless Phone system with 3 handsets $29.99 (MSRP $59.99).
For the kids you can find so many toys and hobby gift ideas. Target has a special on the Disney Princess Musical Keyboard Vanity for children over 3 years of age. $44.98 (MSRP $89.99). LEGO's are always a popular toy for boys. You can get the LEGO Space Police Hyperspeed Pursuit 456 piece set for $34.99 (MSRP $49.99) or the LEGO Star Wars TIE Defender 304 piece set for $34.99 (MSRP $49.99). If you have an aspiring musician you can save some money on the Peavey Electric Guitar with amp and accessories for only $79.99 (MSRP $149.99).
If you are already thinking about getting fit next month, you can save on a Fitness Quest Total Gym 1800 Club Homegym equipment $299.99 (MSRP $369.99).
If you are looking for the Xbox Kinect hands free controller, Target has some available at their retail stores for $149.99. If you checkout their website you can see if they have one available at a store near you.
Target has itemized their small appliances on sale based on pricing tiers. You can find plenty of kitchen cookware and appliances for under $25. You can buy a Proctor Silex wide-slot toaster with 2 slice capacity for only $12.99. You can get a Protor Silex clothes Iron for $12.99. A Black & Decker Brew 'n Go Personal Coffeemaker that comes with a 15 ounce travel mug is only $19.99. If you like waffles, there is a Oster Belgian Waffle Maker for only $16.00. There are many other kitchen appliances on sale including slow cookers, electric roasters, toaster ovens and more.
Target offers a few unique gift ideas for those that may have everything. You can get a Six Language Translator or a commuter hot mug that has three keep warm settings, your choice only $9.99. They have a Wireless indoor/outdoor thermometer for only $9.99. A cordless rechargeable Black & Decker drill with an additional stud finer for only $24.99.
Remember that you don't have too much longer to get your shopping completed. If you want to have the items arrive in time for Christmas you will need to order soon. Also don't forget to watch for items that qualify for the free shipping offers.
By: Victoria Brown