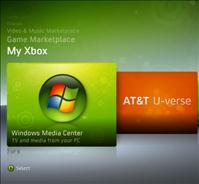 AT&T U-Verse now on Microsoft Xbox 360
Digital News Report – AT&T U-verse TV announced that they are not supporting Xbox 360 games consoles as a way to access U-verse. You have to be a customer of U-verse TV in order to use their service, but the nice part is that you don't have to have an extra receiver for an additional room.
AT&T U-verse TV has been developing support for many mobile phones devices. The newest to be supported soon will be the Microsoft Windows Phone 7 devices.
For the hardcore video game players, they can watch TV with the AT&T U-verse, but you can still be able to receive chat and game invites through the Xbox Live service. Also you can switch your TV viewing to your video game playing without any cable switch outs.
You can save some money because you won't have to pay an extra box rental fee if you use your Xbox360 instead. However, AT&T said that new customers can order the $99 Xbox kit by calling their customer service phone line.
If you want to watch TV on U-verse Mobile you will pay an additional $9.99 per month along with your qualifying U-verse TV plan.
AT&T U-verse TV service is delivered over the Internet in select areas.
By Victoria Brown