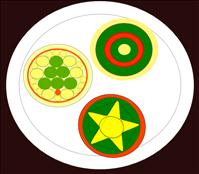 Digital News Report
Digital News Report – It seems like there are so many things to get done during the holidays. You might have been wanting to bake some treats, but you don't have as much time as you would like. You can bake these Holiday Cookies recipes easy by doing some shortcuts to save you lots of time in the kitchen.
The reality of cookie making is that it takes time to form each individual cookie. What you can do to speed up the process is to make refrigerator cookie dough that you can slice up to make into holiday cookies that everyone will delight in.
Sugar Cookies are always a hit and can be made easily with a holiday theme. You don't have to get the cookie cutters out and the decorative frosting to make festive holiday cookies. The recipe is so common you can find it on many websites or cookbooks. You can use food coloring in yellow, green, and red to create patterned cookie dough rolls that once you slice them you will have a pretty holiday picture in each cookie. They will take a few minutes to set up the patterns, but once you do that all you do is slice and cook them. Making smaller rolled out shapes and assembling them together you can get the dough to have a pretty Christmas tree or a star patter. If that is too much work you can roll a center piece, then take a rolling pin for a flat layer and wrap around the circle one time. Change colors and wrap some more, alternating colors. You can also make a pinwheel by layering the three colors rolled out as flat layers on top of each other, then roll them together to make a larger roll. You will then chill the dough, then slice and bake on a cookie sheet.
If this is too much and you are looking for a shortcut you can make bars instead of cookies. By making a chocolate chip cookie into a flat bar you can later cut them into even square shapes. This can make it fast work to make the cookies. You could even make sugar cookies into bars, but before cutting them
If you want to make gingerbread, don't make the shaped people that you have to decorate. Instead roll a log of dough, refrigerate and slice thin cookies. You can finish off these cookies with a drizzled icing that hardens.
Consider breaking your cookie baking into different days. On day one you will make all the dough for the recipes. You can prep the dough and roll it in wax paper or plastic wrap an even place it in the freezer if you are going to take more than a week. Spread your baking out over time. Pace yourself to cook two sheets of cookies (or what you can fit in your oven at one time). Do this while you are preparing dinner. That way you aren't working too much extra. You can have plenty of Christmas cookies in no time. Also if you want to save the cookies for a rainy day, your prepared frozen cookie dough will be ready when you don't feel like making a big mess in the kitchen.
If you want to make drop cookies, investing in a small sized melon baller which will make fast work out of your cookie making. With a squeeze of the handle the scooper will scrap out the dough onto the cookie sheet. The cookies are uniform in size as well.
If you don't want to make the dough completely, you could make a recipe from a homemade cookie dough mix recipe. That way you can have a quick start to a number of cookie recipes without dragging out all the usual ingredients. All you have to do is add the extra ingredients and an egg and your are ready to bake cookies.
After you work out what system works best for you, cooking holiday cookies will be a lot easier and you won't be so worn out. Hopefully these shortcuts will help you find some fun time during the holidays this year.
By Victoria Brown