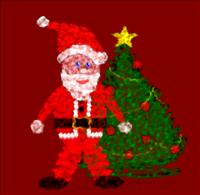 Digital News Report
Digital News Report – AT&T is returning with their Santa Tracker app and Santa's Text messaging. Customers of AT&T U-verse TV and AT&T mobile wireless customers have a few ways to get in the holiday spirit. If you have AT&T U-verse TV you will be able to get the Santa Tracker app, and if you have an AT&T wireless plan you can text message Santa with your wish list.
The promotion is going on now until December 24th. In order to have Santa text message your mobile phone you have to have AT&T service and you have to text "SANTA" or 1224. You will then receive a message from Santa Claus himself which then asks for you to send a response back with your wish list. The text message conversation is free.
For AT&T U-verse TV customers they will be able to track Santa on Christmas Eve delivering all the presents. You can watch the Santa Tracker on channel 98. There is also other fun activities that your family can enjoy. You will be able to take a "Naughty or Nice" poll, have a holiday sing-a-long, read popular holiday stories, listen to Holiday Christmas song on "Rudolph Radio." You can also play games that are inspired with the holiday season which is made available by Discovery.com/toys.
If you don't have AT&T service you can also track Santa online with Norad Santa Tracker. There are also other websites that you can have Santa call your kids.
By Victoria Brown